The art of gratitude and being grateful can be hard. In some cultures, it can feel awkward and cumbersome to express little tidbits of thankfulness and grace. However, it's a worthwhile challenge to do and the benefits of showing gratitude, appreciation and admiration are immense.
Firstly, Erika at Chimerikal started a fun little link-up about gratitude and I decided to play ball. I blogged last week about Thanksgiving and how grateful I was for all the love in my life. Instead of waxing lyrical about how wonderful my life is, I thought I'd talk a little bit about what gratitude is.
I did some research last week and found a brilliant blog by Amit. Amit of Happier Human has done all sorts of research into gratitude and it's health benefits. He has written numerous blog articles and reviewed individual journal articles. As a psychology graduate, I liked this A LOT. Firstly, because I am geeky and secondly, because I wanted to provide you with real, solid information.
Relatively speaking there hasn't been a lot of research into gratitude, don't get me wrong, there's still loads out there but if you compared it to research on memory, gratitude is definitely left lacking.
So before I dive into all the good parts of what gratitude can do for you, I thought it best to have a think about what it means to be grateful.
What is gratitude?
Gratitude is experienced culturally but it is expressed throughout the world with many societies finding cultural and linguistic methods for showing it (McCullough, Kilpatrick, Emmons and Darson et al., 2001). The feeling of gratitude is defined in multiple ways and there really isn't a single way to describe it as it is.
It's a super hard feeling to define but it has been described as a mix of joy and admiration. Research has found heavy links between the gratitude and feelings of happiness, pride, contentment, hope, trust and regard (Emmons & McCullough, 2003).
Some (Brown & Levison, 1987, as cited in McCullough et al., 2001) believe that gratitude is anything from a state of feeling indebted or socially obligated to another individual because of a kind act to an expression of politeness.
I'm not so sure I like these definitions because, for me, gratitude isn't about 'owing' someone a favour, so I was happy to find that Emmons and McCullough (2003), stated that gratitude focused more on the perception of the individual focusing on a positive personal outcome. The positive outcome was not necessarily deserved but it had happened anyway. They went on to say that the outcome had to have been brought about by another person, which, in my experience, isn't always true. Wood, Joseph and Linley (2008) obviously think in a similar manner to me, stating that those who expressed gratitude and were happiest often involved a wider range of people and events, including God, sunrises, sunsets, weddings and good memories for which to be grateful for.

Why is gratitude important?
Well, gratitude is something that makes up massive parts of many cultures, with major religions espousing the necessity of gratitude and the act of being grateful. It plays a big role in Christian, Jewish, Muslim, Buddist and Hindu thought, to name but a few.
In fact, gratitude is such a revered feeling in society that to be accused of 'ingratitude' is a great offense and a big indication of moral failure. This is a universally powerful accusation (McCullough et al., 2001) and means that gratitude has more importance within society than we generally acknowledge.
For me, gratitude is important for my own journey as a person, but it has greater benefits for society, with research showing that gratitude promotes the use of kindness to oneself, other people and society. Overall, gratitude can help the world run smoother and assist in making relationships better.
Next week:
I'm going to start looking into the benefits that showing and expressing gratitude can have on your health and general well being.
What do you think? Does this sum up gratitude to you?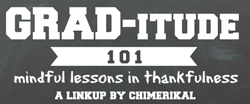 RULES FOR THIS LINKUP
1. Write a post and/or comment about gratitude. (The link you submit to the linkup must be the actual post's URL and not just your homepage or it'll be removed.)
2. This linkup is also about support and community, so read and comment on at least one other person's post about gratitude. 🙂
3. Link back to this project in your post. Feel free to use the little button above or upload one of your own!
References:
Emmons, R. A., & McCullough, M. E., (2003), An Experimental Investigation of Gratitude and Subjective Well-Being in Daily Life. Journal of Personality and Social Psychology, 84, 372-389.
McCullough, M.E., Kilpatrick, S.D., and Emmons, R.A., Darson, D.B., (2001), Is gratitude a moral affect? Psychological Bulletin, 127, 2, 249-266.